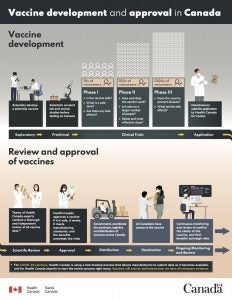 The recent Health Canada approval of a COVID-19 vaccine is an important development for Nova Scotians overall health and to protect the health and safety of our members. CUPE Nova Scotia supports Public Health and the vaccine rollout plan to prioritize vaccinations for the most vulnerable populations and those that provide care for them.
CUPE NS encourages all of our members to avail themselves of the vaccine(s) when it is made available to them, as COVID-19 will remain a significant health and safety threat in our lives and in our workplaces for the foreseeable future.
To download a printable copy of this infographic, please click here.
While this vaccine was developed using an expedited process compared to others, its success is due to the diligent work of countless researchers and health professionals. CUPE NS supports Health Canada's assessment and approval process for vaccines.
To learn more information about how vaccines are developed and approved for use in Canada, please click here.