Join us for a four-part webinar series organized jointly by PHM Europe, PHM Canada, CUPE Nova Scotia and the European Health Network that explores the increasing commercialization and privatization of the long-term care industry in North America and Europe.
Over three sessions, academics, activists and front line workers will discuss the impacts of this trend on our politics, the working conditions of these facilities and the lives of seniors living in these centres. The final session will be devoted to exploring these topics in greater depth through group discussions.
Find more info on this event on the following website: europe-health-network.net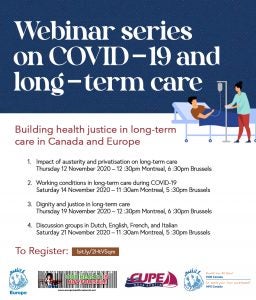 Be sure to double check the timetable and your timezone: The sessions will take place in the morning (11h30 or 12h30) in Canada and the evening (17h30 or 18h30) in Europe.
Simultaneous translation available for: English, French, Italian and Dutch.
Registration: forms.gle/4wd9jvuSdpx3q4Pa7
Please also subscribe directly per session to be sure you get the Zoom link!
Session 1
zoom.us/webinar/register/WN_Yl_3aL5KRHWQV-MqCwfETA
Session 2
zoom.us/webinar/register/WN_YjcDCJbRSNOnb6b2c_jNRA
Session 3
zoom.us/webinar/register/WN_LyeyIXTBSsaKIc8CC_rbYQ
Session 4
zoom.us/meeting/register/tJAqd–upzwrEt2WVUemG1MC2gShO6OiTg7M
Speaker Bios:
docs.google.com/document/d/1Sw9GEph2s2nI9yMoQYpKklG7kDuhhK9Ja5uETC91fXA/edit?usp=sharing
---
Série de webinaires sur la COVID-19 et les soins de longue durée – Bâtir la justice aux soins de longue durée au Canada et en Europe
Rejoignez-nous pour une série de webinaires en quatre parties organisée conjointement par PHM Europe, PHM Canada, le SCFP et le Réseau Européen Santé qui explore la commercialisation et la privatisation de l'industrie des soins de longue durée en Amérique du Nord et en Europe.
Au cours des trois première sessions, des universitaires, des activistes et des travailleurs.ses discuteront les impacts de cette tendance sur notre politique, les conditions de travail de ces établissements et la vie des aînés vivant dans ces centres. La session finale donnera la chance d'approfondir les connaissances de ces sujets à travers des discussions de groupe.
Retrouvez plus d'info sur cette série de webinaires sur le site suivant: europe-health-network.net
!! Assurez-vous de bien vérifier l'horaire et votre fuseau horaire : Les sessions se dérouleront le matin (11h30 ou 12h30) au Canada et le soir (17h30 ou 18h30) en Europe.
Traduction en simultanée disponible: Anglais, Français, Italien et Néerlandais.
Inscription : forms.gle/4wd9jvuSdpx3q4Pa7
Merci de vous inscrire aussi par session sur les liens au-dessous pour directement recevoir le lien de zoom : 
Session 1
zoom.us/webinar/register/WN_Yl_3aL5KRHWQV-MqCwfETA
Session 2
zoom.us/webinar/register/WN_YjcDCJbRSNOnb6b2c_jNRA
Session 3
zoom.us/webinar/register/WN_LyeyIXTBSsaKIc8CC_rbYQ
Session 4
zoom.us/meeting/register/tJAqd–upzwrEt2WVUemG1MC2gShO6OiTg7M
Biographies des intervenants:
docs.google.com/document/d/1Sw9GEph2s2nI9yMoQYpKklG7kDuhhK9Ja5uETC91fXA/edit?usp=sharing