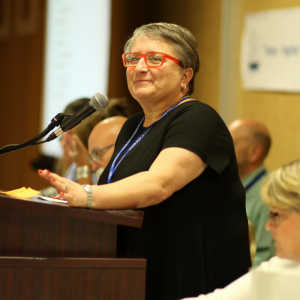 Nan McFadgen, president of CUPE Nova Scotia, was re-elected at the union's 54th annual convention on May 31, 2017. More than 200 voting delegates from locals across the province attended the convention held May 28 to 31, at the Best Western Glengarry Hotel in Truro.
Other election results are as follows:
Dave Dort, recording secretary
Donna Vankroonenburg, three-year trustee
Chris Melanson, vice-president, Halifax
Marcy Vacon, vice-president, Yarmouth
Liz Paris, equity vice-president
The convention addressed several issues of concern to CUPE members, their families and communities in the province, including the provincial election, privatization threats, Bill 148 and other regressive pieces of legislation from the McNeil government.
CUPE Nova Scotia represents more than 19,000 working women and men employed throughout the public sector. We are proud to be part of Canada's largest and fastest- growing union. CUPE represents workers in health care, education, municipalities, libraries, child care, universities, social services, public utilities, transportation, emergency services, and airlines.
CUPE members are service-providers, white-collar workers, technicians, labourers, skilled tradespeople, and professionals. More than two-thirds of CUPE members are women. About one-third of our members work part-time.