THE ECONOMIC IMPACT OF BILL 148

Since 2013, public sector workers including teachers, nurses, school board and child care workers, civil servants, the arts community and many others – approximately 70,000 – have been subjected to unrelenting interference in the collective bargaining process by the Liberal government.
These attacks on public sector workers are unfair and likely unconstitutional. They'll also do serious damage to the economy.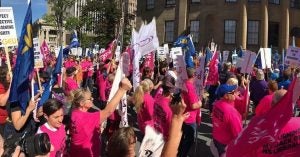 The wage restraint sections of Bill 148 are wage restraints, not imposed economic increases. For example, the economic increase in the third year cannot be more than 1%, meaning in theory something less could be negotiated, but nothing greater.
The retirement allowance, a freely negotiated benefit, is being unfairly taken without being offset and in effect takes wages from members that have been deferred until retirement.
These wage restraints will reduce purchasing power as the rising cost of living outpaces wage gains. Better wages are necessary to get the economy growing and reduce inequality.
While business lobby groups and some politicians like to sow division between workers, public and private sector wages are linked. Suppressing public sector wages will eventually drive down private sector wages. Keeping wages down is one of the worst things to do to our economy.
Labour compensation and household spending are responsible for well over half of our country's national income and spending and for more than 60 per cent of our economic growth since 2009. If labour compensation and consumer spending don't increase at a decent and sustainable pace, then our economy won't grow at a decent pace either.
It's time to grow our economy with decent wage increases and a fairer share going to workers. 
THERE IS A BETTER WAY
Families in Nova Scotia are already struggling to make ends meet. Layoffs, wage freezes, cuts to public services, and attacks on unions are only making things worse.
There are steps the NS Government can take to put people first, protect the public services we need, create good jobs and a stronger economy.
The Liberal Government should recognize the public sector as a driver of economic growth. Top quality health care and education are important industries, not a drain on society.
Some specific measures that can help workers and families should include creating new income tax rates so top earners and corporations pay their fair share; scheduling minimum wage increases to be indexed to economic growth and/or inflation; and strengthening collective bargaining legislation.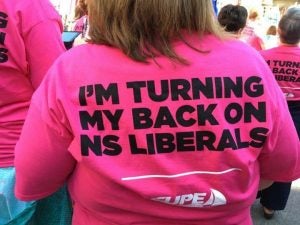 THE MCNEIL GOVERNMENT IS STOMPING ON WORKERS' RIGHTS
LEGISLATION
Bill 1
The Health Authorities Act restructured the health care system, unnecessarily reduced the number of bargaining units, and attempted to assign union representation rights.
Bill 19 
Trade Union Act amendments made it harder for workers to exercise their right to unionize and secure first collective agreements.
Bill 30 
The Essential Home Support Services Act directly interfered in the collective bargaining of home support workers.
Bill 37 
The Essential Health and Community Services Act limits job action rights of more than 40,000 workers in acute care, long term care, group homes, home support, child protection and other sectors.
Bill 75
The Teachers' Professional Agreement and Classroom Improvement Act imposes a collective agreement on teachers after they rejected the contract terms three times.
Bill 100 
The Universities Accountability and Sustainability Act allows universities to override collective agreements during five-year "revitalization" periods.
Bill 148 
The Public Services Sustainability Act freezes and limits wage increases, sets the term of collective agreements and puts an end to long-service awards.