Resolutions and Constitutional Amendments
Here are excerpts from some of the important resolutions/amendments voted on and passed by delegates at convention on Tuesday. For more details, please contact the CUPE NS executive.
Constitutional Amendment #1
CUPE Nova Scotia will make available one scholarship per year, named the "Mike McNeil CUPE NS Atlantic Regional Weeklong School Scholarship".
Resolution #4
CUPE Nova Scotia will conduct local outreach to educate members about CUPE's violence and harassment tools and resources, and educate workers about the right to refuse unsafe work and the importance of reporting all incidents involving violence and near misses.
Resolution #9
CUPE Nova Scotia will lobby the provincial and federal governments to introduce legislation that will standardize the number of hours of hands-on care that's required per resident per day in long term care homes across Canada.
Panel discussion on domestic violence and the workplace
Hosted by the CUPE NS Occupational Health and Safety Committee, a panel discussion took place on the workplace impacts of domestic violence and addressed questions from delegates at convention. Speakers included Alma Donovan, Domestic Violence Case Coordinator, Cape Breton Regional Police; Patricia Perry from CUPE 4459, Tearmann House women's shelter; and Jenna Brookfield, CUPE Health and Safety Officer. Questions read by Steve Joy, CUPE 1867, and Kristi Corkum, CUPE 5033.
A good news budget
CUPE National Secretary-Treasurer Charles Fleury
"I am very happy to say that this year we have a good news budget. This is one of the biggest benefits of being a national union. If we have problems in one region, we can address them because in CUPE we combine our resources to help each other. This is how CUPE faces its challenges. This is how we find new ways to address austerity."
"Our per capita is starting to grow at a faster rate than recent years. And our membership numbers are growing too. This year we are projecting our revenue will increase by almost nine million dollars. Most of this growth is the result of the great work we've done organizing new members into CUPE. Over the past year, our membership grew by over thirty thousand members."
We can do better
"As U.S. Congressional Representative Alexandria Ocasio-Cortez says, 'We have to have the courage to say we can do better'." — NS NDP Leader Gary Burill
While speaking to delegates, Gary announced that the NDP executive board has created a new position called Vice-Chair of Labour and that position is currently held by Danny Cavanagh, former CUPE NS president and current president of the NS Federation of Labour.
Reconciliation through Education and Understanding
Tuesday evening, CUPE delegates at the annual division convention participated in the KAIROS Blanket Exercise. The Blanket Exercise is a unique, participatory history lesson – developed in collaboration with Indigenous Elders, knowledge keepers and educators – that fosters truth, understanding, respect and reconciliation among Indigenous and non-indigenous peoples. Learn more at https://www.kairosblanketexercise.org.
Credentials Report 
 9 – CUPE NS Executive Board members (voting delegates) *
2 – CUPE National officer
3 – CUPE National Executive Board members
4 – CUPE Staff
16 – CUPE staff representatives
8 – Guest
0 – Observers
3 – Exhibitors
218 – Delegates (voting delegates) *
14 – Alternate delegates
*For a total of 227 voting delegates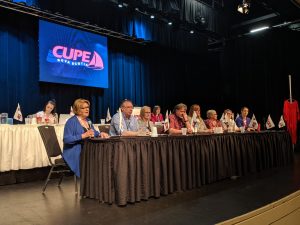 Discussion on strategic planning and your local: CUPE Atlantic Regional Director Jacquie Bramwell, with Serving Reps Grant Dart, Wanda Power, Carl Crouse, Kim Cail, Kathy MacLeod and Mary Fougere, and CUPE NS President Nan McFadgen
Election results

Political Action Committee: 
Kim Loppie
Joanne Currie
Tom Best
Yvonne Dasilva
Human Rights Committee:
Paula Gerrior
Tony MacKenzie
Calvin Scott
Donna McCarthy
Womens' Committee:
Angie Crawley – young worker
Ashley Wile
Kristen Welbourn
Sharon Hubley
Patricia Perry
Photos
All high-resolution photos taken at the CUPE NS Convention by our official photographer can be found at flickr.com/cupenovascotia, including the group photo of all convention delegates.
A printable copy this bulletin will be available soon.