How will wage losses affect your municipality?
Nova Scotian workers – including nurses, school board workers, long-term care workers, education assistants and others – have been waiting years for a decent pay increase. Better wages are necessary to get the economy growing.
The McNeil Government is imposing a two-year wage freeze on public sector workers, followed by maximum wage increases in year three and four that are below inflation.
These attacks on public sector workers are unfair and likely unconstitutional. This means real wage losses projected as 5.5% in four years, as the rising cost of living outpaces wage gains.
They'll also do serious damage to the economy. Suppressing public sector wages will eventually drive down private sector wages.
Households have maintained consumer spending by increasing their debt to record levels and leveraging equity in their homes as house prices have escalated. This has been affordable with low interest rates, but won't be sustainable as interest rates rise and real estate prices plateau or decline.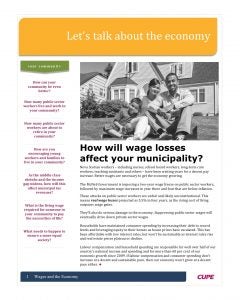 Labour compensation and household spending are responsible for well over half of our country's national income and spending and for more than 60 per cent of our economic growth since 2009. If labour compensation and consumer spending don't increase at a decent and sustainable pace, then our economy won't grow at a decent pace either.
For discussion
How can your community be even better?
How many public sector workers live and work in your community?
How many public sector workers are about to retire in your community?
How are you encouraging young workers and families to live in your community?
As the middle class shrinks and the income gap widens, how will this affect municipal tax revenues?
What is the living wage required for someone in your community to pay the necessities of life?
What needs to happen to ensure a more equal society?
Download a copy of the newsletter Let's Talk About the Economy.

Related articles
Public sector wages not on pace with inflation
False fiscal crises undermine the public sector
A tale of two budgets – Alberta and Saskatchewan
Ensuring equality in growing sectors of the economy
Swedish secrets to a strong economy